Because of this action of the father Jesus' listeners become angry, too.
With this outrageous story he wants to open the eyes, ears and hearts of the people so they will understand the background of the story.
The father stands for God, the worthy son for the faithful believers and the good-for-nothing son for people who turn away from God. Jesus illustrates in this parable that God loves every person in the same way, it doesn't matter, when he or she starts believing in God. God's love isn't earned by work or achievement done by people, but by the faith in the hearts of each person. God attaches importance and value to everybody, and it is not important to God if anyone gets lost. It is always possible to return or to find God. (Read, too, 5th Mose, 4,25-40)
We learn about a family
at the centre
of the parable who could live nowadays. In this family there are some problems. One son of the family turns away from his father, but even so his father must give him his share of his inheritance. He dissipates his fortune abroad and ends up in poverty, at the end he is really in the mire.
The other son stays loyally with his father and slaves away for him like a servant.
They have a big row when the impoverished and ragged son returns. The father does everything because of his delight at the return of this son. He gives him a golden ring and great clothes, and they have a big party. It seems to the worthy other son that his father loves this good-for-nothing son more than him. Understandably it hurts his feelings very much, he gets angry, and also becomes jealous. For him, he sees this as a great unfairness on the part of his father towards him. Although he himself was always nice and very busy he has got nothing like this. He thinks that it is simply
outrageous
.
or The Parable of the Compassionate Father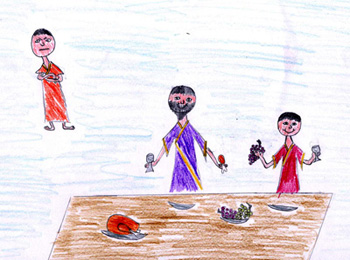 The Parable of the Prodigal Son